Hello my lovelies! Here I'm again with another fashion filled post.This post is absolutely dedicated to the fashion town's new Fall/winter bestie and that is "Fur".So,let's get started.
As temperature is dropping day by day,there's no better way to stay cozy and fashionable than in a furry cover.Fur is stealing the limelight this season,be it a two-tone over sized coat or a blue scarf.There are innumerable ways you can wear fur(even in bags or shoes) and look gorgeous.Also one achieve that fashion week street style look.
Fur is the must have fashion trend this Fall/winter 2017-2018.If we talk about the fashion weeks,be it Paris,London,Milan or new York ,fur was all over the place from runway models to street stars all rocked it stupendously.
So, coming back to my take on fur,I'm wearing this fur collared overcoat as  temperature is still high here and not conducive to furry topper.But my obsession for this trend is becoming so high  that I've already purchased one parka and a coat.Get ready for some more fur filled post.hahaha
Here comes the pictures.
I'm giving you more of fur from various fashion weeks,and here you go.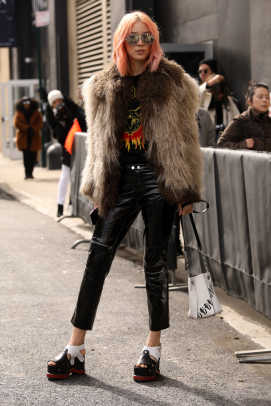 You can rock it anyway you want even in a bag or on your feet.It's that simple.
I paired my fur coat with a floral,ruffle and layered skirt(this is very in now), a high neck top(trending now) and a tartan or plaid belt,accessorized the whole thing with a tan sling bag and a pair of mules(hottest trend of this year).You can always choose denim or leather pants and boots to make your fur look even more sultry.
That's all for today's post my beauties.Please let me know in the comments below about  your fur story and if there are other ways you want to wear it.
I'll come up with more adventurous post until then stay fashionable and keep exploring.
Outfit Details:
Overcoat- Forever 21 You can get it here
Floral skirt- Koovs get it here
Top- Forever 21 get it here
Mules- Koovs get it here
Bag- Gift from my mother.
https://www.instagram.com/fashion_peopleandplaces/?hl=en (let's connected on Instagram)