Hey my lovelies! Here I'm again with yet another fashion filled post.Hope you guys are doing great and enjoying this party season.Just a month left for this year to go down and preparation are on full swing for the upcoming thanks giving, lined up with Christmas and new year.So let's make this season even more beautiful and kill it with our fashion.
Sweater is my all time favorite when it comes to winter wear because it's cozy and definitely comfy.Since my childhood I'm a sucker of sweater and this trend continues, but sometimes we get lost in the "how to wear it" section.No worries my beauties I'm here to help.
over sized sweater
We all love to wear sweater but how many of us have tried the trend "over sized sweater" yes I'm talking about the biggest trend of this fall/winter 2017-18 which was all over the fashion weeks not only on the runway but also the street style star were killing it. I guess not many!So today's post is all about it,no need to panic I have got your back my sugar cookies,you can definitely rock that baggy one without looking slapdash.
There are innumerable ways you can wear over sized sweater and look simply like a star because it is always about how you style it.Let's learn it from our divas.
This is one of my favorite look from New York fashion week 2017.The color pink is very in now and that sweater looks exquisitely pretty. She is wearing it like a dress and paired it up with some over the knee boots,makes this look even more sultry.
This is from NYFW AW 17 and here she is paring it with some midi skirt and ended up looking so cool.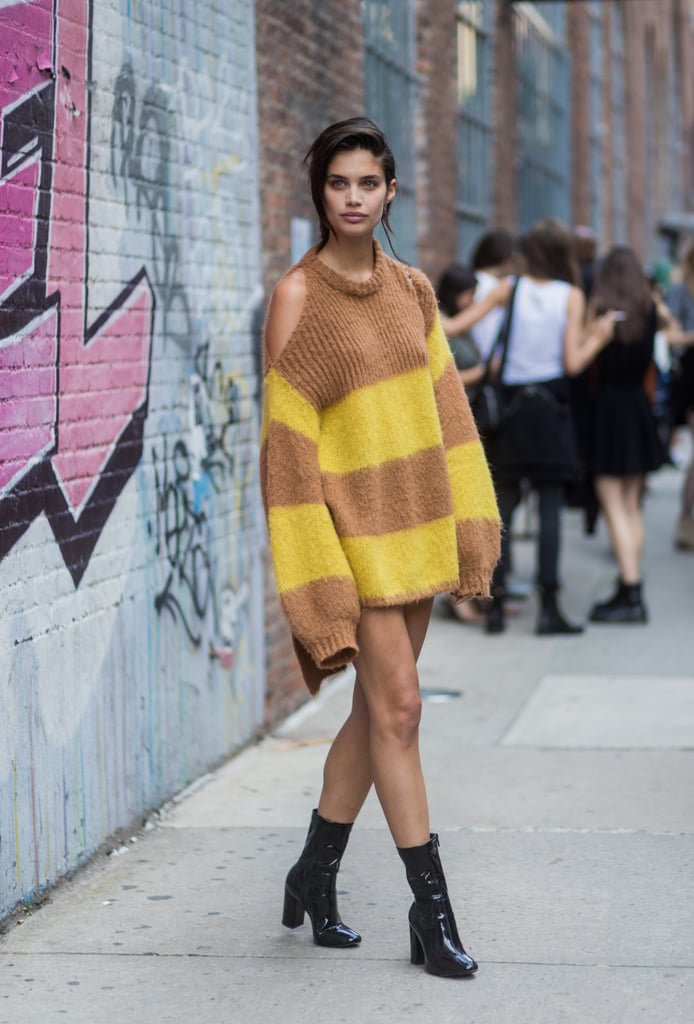 This is another incredible way to style over sized sweater.Wear it like a dress and simply pair  it up with some boots( any length)
Here this street style diva is pairing a slip dress with a red over sized sweater.This will go with any sort of dress you want.
What an amazing way of wearing an over sized sweater,don't you just like it!
Look at this diva how effortlessly cool she is looking, you can wear a boot,a pointed toe stiletto heel or mules anything of your choice.
Or simply pair it up with a ripped denim,anyway you are gonna rock this trend.
How I love to wear it
My take on this trend is as simple as it could get,and here comes the pictures.
And this is how I like to wear my over sized knitted sweater.Keeping it all simple and short in the bottom because it's already so full in the up, while accessorize it with an ankle length boot and a bucket bag.
About my skirt
The luckiest thing ever happened to me was few days back when I was looking for a leather skirt in Zara India online website (click here) and also put some of my likes in the bag ,unfortunately the one which looks exactly like this skirt I'm wearing here went out of stock, but I was so happy when I got the same wrap leather skirt from Shein India(click here), and as leather is very in now(trending this winter 2017-18 be it a pant or skirt) also the length of this skirt is so sturdy  absolutely perfect for the outsize,drop shoulder sweater,I decided to wear them together and guess did a good job,what you say friends!
And I love this metal ring(trending right now) bucket bag  which is definitely icing the overall stylish look.
Style it anyway you want and pair it with any bottom of your choice.Don't bother about what people will think and trust me it will make you look more chic than a skinny top will ever be.
That is all for today guys, fashion is always your best friend please never let it go.Untill my next post stay in vogue, keep exploring, wish u a very happy Thanks giving and please don't forget to lemme know in the comments below about how you are gonna style your over sized sweater this fall/winter.xx…..
Outfit Details:
sweater – Shein  India (to get it click here)
skirt – Shein India(here you can get it)
Boot – Truffle collection shoes (to avail the discount click here)
Bucket bag- Zara India (click here)